Werber this time, looks to local services.

Social Media Mobile
The fusion of the technical capabilities of a smartphone (GPS also), standortbezogene Services /Location Based Services (LBS ) and Social Media, revealed an effective advertising channel. From konsumentenpsychologischer view.

Local Services. Location-based networks.
There are already services with a mixture Freundesnetzwerk, Empfehlungsportal and Geodateneingabe with real-time character.
Users can tell their friends, where they are and leave tips on the locations or Leave feedback.
ZB. Gowalla, Ends and a German network Friendticker, reported on W&V Media in July.
In addition, they can eg. their own Web Page Setup, to location-based information exchange, or to communicate via Twitter. (zB. Dailyplaces with iPhone app)
Social networks are already integrated LBS. Twitter (worldwide 100 Million users) offered in June in the US a function, automatically sends the user with spatial data.
loca.li, a service from Wiesbaden,

ermöglicht zusätzlich z.B. das Hochladen von Fotos

.
This gives a very high Involvement with the company / the brand / the product.
For advertisers interested. Examples: Foursquare und Places.
Foursquare: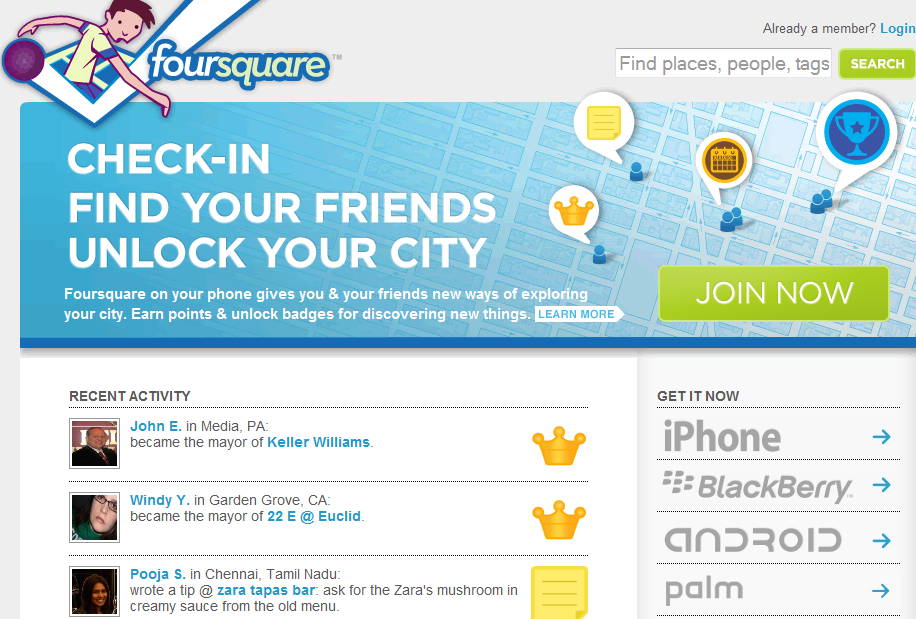 In Foursquare is yet to add another interactive element.
This is, in addition to Branding, in form of Mehrwerts ( Social Media), to Customer Loyalty.
Foursqare is the most popular network worldwide and currently has about. one million users and a daily log to new.
Nutzer können "Abzeichen sammeln". D.h

. whenever they are in a certain place (zB. at Starbucks or McDonald's or even at your favorite italian) can "check in". The respective most common "A-Checker" in one place, may be called the mayor and may-in contrast to real life- be bribed.
In the U.S., brands are already using this social media channel, in which they are Markenbekenner corresponding Added value.
Such added value
Starbucks is the "Mayor" of its outlets at each time check, Coffee-Vouchers.
The History Channel provides Facts, when it is entered in a specific place, a status message.
Places are free from Google current in the U.S. tested and will soon be offered internationally.
For 25$ Advertisers can their location with yellow squares on the Google map mark and describe.
Google adds the information with your own photos. The search for places will be supplemented by the search for local merchants and service providers.
Also getting the Unternemen QR-Codes (Barcodes) business card, Flyers and window stickers, that can be read from any mobile phone camera. Thus, a user can contact by phone with an advertising about the company Warn.
Other advantages. Konsumentenpsychologisch.
Branding + Acceptance
Also KMU can, Besides the "big" with the right added value, the Visibility its brand, enormous increase.
In addition, the acceptance of a product is or similar. by Opinions of Caregivers increased (social norm = others would find "it" well).
Involvement & Recommendation
An "employment" with the brand strengthens the respect of customers.
Used a direct recommendation of opinion leaders is particularly effective.
Markenbekenner & Multipliers (meist Early Adopter) should of advertisers "In good spirits" be held.
More Others. the combination of offline and online trading, on the last part.