15. April 2008 – 07:09
Universal design and usability should be taken into consideration in the early development phase. Later, it is sometimes too late. A repair will cost 10 times more than the implementation of the beginning (Estimate for websites).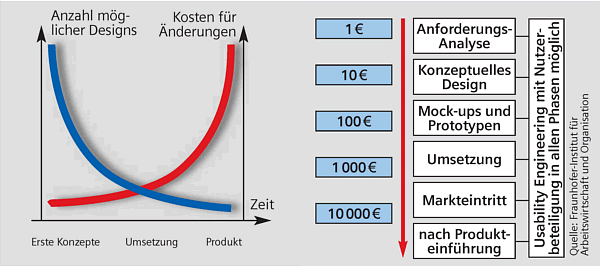 And, The IT industry still has a terrible usability: Enterprise software is difficult to install and cumbersome to operate. The software is suitable for most users is too extensive and too complicated. Most of these problems are hereditary diseases: The interaction designers toil away, subsequently decent user interfaces to software, been constructed in the years before the establishment of usability groups, set up.
An example is Microsoft Office. Until today, offered no completely integrated user experience, and, Although Microsoft has 1988 its applications as a complete solution in the bundle sold. Word came 1983 on the market, Excel 1985 and PowerPoint 1987 (originally as an independent product of Forethought). After sixteen years of work, the product history still shows in the user interfaces, although it better with each release is.
Usability can not ignore it. Therefore, today often provide IT companies with no tradition of usability people, have accumulated in previous jobs experience with usability testing and use their knowledge in new product development.
These articles might well be:
Print