Copyright and privacy laws also apply in Social Media.
The Copyright protects the ideal and material interests of the author on his mind works.
ThePersonal rights protects against interference in the life- and freedom of the field.
A protectable, intellectual creation is subject to a Urheberecht above a certain threshold of originality.
With the use of foreign works, it always requires the consent of the copyright holder.
ZB. in broadcast recordings on You Tube, Upload images (zBFlickr) oder Re-Tweets.
With publications in social networks, such as Facebook and Studi VZ etc. rights apply. Their practical enforceability is often more problematic. Dr. Hajo Rauschhofer is his experience in the Internet World Business (25/09) again.
Subject of Urheberrechtsverletzungen can be:

Can I copy Tweets?
And. Copy text messages to Twitter, dh. the use of content and Tweet Re-Tweets, apparently does not consent. Because it is assumed, that no protectable, intellectual creation, given the character limit (140) is given.
Photos Video / broadcast recordings on Youtube
The fact, that appear on You Tube broadcast recordings from television, does not mean, that this is "lawful" is done.
Legal aspects of personality in images or videos.
Anybody can copy images and, for example. Upload in its network. This happens in part by the users themselves. On Twitter, it is "just" the links with pictures and videos.
Consent "actually" always required.
For private individuals, this is certainly easier than for models or actors, yet the per publication buyouts get.

What to consider when using photographs?
For images are copyright-related right and moral rights claims to be observed. A photo is subject to the Performance rights according § 72 Copyright Act (Copyright Act).
Although this level have no creation as copyright and integral work.

The use, Further distribution or reproduction may not be made without permission from the copyright holder.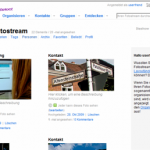 Owners can be:
1. Author = photographer or
2. where appropriate, the holder of the exploitation rights (Agency)
Personal approval:
Are people ready to the approval of the publication + for minors, the Consent by a parent or guardian, erfoderlich.
In Profis (Actor, Models) are commercial aspects of the remuneration taken into account. They should use species for (Internet Print advertising, etc.).
No consent necessary:
If people in the picture not visible are, or if it is just a "Accessories"These.
Personal rights- Opinions and assertions
Institutions and individuals can defend themselves against critical or even defamatory remarks.
Negative comments = verifiable assertion of fact or opinion?
Does the network is a critical comment about a company, will need to be addressed first thing, whether it is an opinion or "Fact" is.
1. Meinungswiedergaben begin mostly with a "I think, ... "And are subject to freedom of expression.
Other hand, we can do little.
2. False statements of fact, However, by contrast, an entrepreneur can defend.
The, has something to prove this claim, otherwise is the Of penalty of libel in space under § 186 Criminal Code .
3. Claims about the creditworthiness
injunctive relief in addition they can also damage claims even after § 824 BGB entail.
4. is not yet clarified, as a person against Publications abroad can defend.
The liability of a forum, and the recall of its own content will include. Themes of the last, still following, Part Three of his.